The Latest...
NI helped with the planning and the meeting logistics of the VI National Water Community Management Associations Conference. This event was planned for months and took place in the first week of December.  Panelists from various parts of the country participated, as well as international participants from Brazil, Ecuador and Colombia.
Liga CUENCA's nursery has a new ally. One of three large hotels in the Balsa Watershed will purchase native trees produced by the Ligua nursery to reforest the lodge's extensive grounds used by the lodge's guests. The first delivery of trees to the lodge was in December.
Nectandra Institute (NI) held its first virtual New Culture Water Month. The annual multi-communities event included educational and popular ludic activities. It was celebrated on the different social networks, as well as virtual meeting forums and round tables hosted by NI.
During the festivities, participants were asked "What motivated you to work and contribute to your water management associations?" "Commaraderie", "pride", "good experience" "responsibility", "commitment", "solidarity" were some of the expressed feelings. Video of event
Three neighboring federations — FEDAPRO, UNAGUAS, and the Liga CUENCA — consisting of about 40 water management associations, joined effort to propose modifications to three Congressional bills that will affect the management of the water associations. The federations met three times with the legislators, made their reports and negotiated changes in the bill that will be considered by the Legislative Assem
Year 2020 was a providential year for plantlet production, as we put extra work with social distancing in the outdoors. The league (Liga CUENCA) of 12 water management associations that have obtained ecoloans from Nectandra Institute (NI) started a nursery as part of the "eco-interest payment", with the objectives of supplying and sharing native trees for reforestation of the members' properties.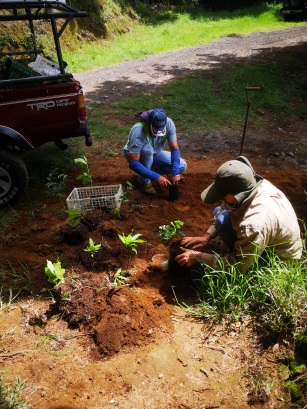 In addition to the 650 trees grown from seeds of 20 native species this year, voluntary wild seedlings along roads (which were at risk of being cut as part of the road maintenance) were bagged into growth bags to add to the nursery inventory. About 1000 seedlings of 25 native species were produced this way. They were distributed to 4 ecoloan properties this year.
A few of the properties were difficult to reforest due to a combination of steep slopes and fierce wind. After several failed attempts with direct transplantation, banana plants as nurse plants turned out to be the solution, as they were able to adapt to challenging terrains and conditions. They, in turn, protected newly transplanted native seedlings from sun and wind. Their fruits also attracted birds to act both as seeds importers and dispersers.