The Latest...
As in the rest of the world, Covid-19 shut down our Nectandra public operations completely as of March 2020. From the start, Costa Rica issued clear and firm mandates for all to lockdown, to set curfew and driving restrictions, to socially distance and wear masks at all public places. As new information became available, restrictions were gradually withdrawn, one step at a time. Limited businesses hours and driving were gradually allowed to resume but under restrictions, even after vaccination began. Currently, masking and social distancing in public places are still in place. School only opened two weeks ago.
With wide distancing among them, our ground crew at the Reserve resumed full time field and outdoor work, but fully masked as of May 2020. We stepped up our patrolling due to the increasing presence of poachers, who now had more time on their hands to pursue their illegal deeds, and took the opportunity to repair and maintain our fences, trails, and buildings.
At the same time, our Nectandra Institute office staff began to engage with the communities virtually, and resumed their contact work and held conferences from home. Outdoor work at the nursery also resumed. However, many activities could not.
For the past first 12 of 18 months, we canceled:
All reforestation and field work associated with the eco-loans
All volunteer activities
All visitations to the Nectandra Reserve
All face-to-face and indoor meetings
As of April 2021, our naturalist guides received full vaccinations. The garden guided tours have resumed as of May 2021. In the meantime, our office staff is still working from home, but is able to hold virtual meetings with our community partners. Vaccination in Costa Rica is now available to adults 20 or older. We expect to gradually return to "normal" schedule when our staff is fully vaccinated.
To commemorate Día Internacional del Agua (International Water Day), Manrique Esquivel from our staff posted a short video to celebrate the critical role of water to life on earth.
While water covers 70% of the earth's surface, only 2.5% is fresh water. Of that, only a fraction is accessible while the rest is locked up in glaciers and snow. In total, just 0.007% of the planet's water is available for human consumption. While the volume of drinkable water has remained static, total human population is now 6.8 billion and growing. In spite of water's importance to our life and health, at the present rate and usage, only one in three persons on our planet will have access to adequate potable water by 2025.
Potable water distribution in Costa Rica is largely managed by the federal Institute of Water and Sewers (AyA). In many of the country's rural watersheds, potable water management is distributed by some 1500 semi-autonomous volunteer water management associations.
NI helped with the planning and the meeting logistics of the VI National Water Community Management Associations Conference. This event was planned for months and took place in the first week of December.  Panelists from various parts of the country participated, as well as international participants from Brazil, Ecuador and Colombia.
Liga CUENCA's nursery has a new ally. One of three large hotels in the Balsa Watershed will purchase native trees produced by the Ligua nursery to reforest the lodge's extensive grounds used by the lodge's guests. The first delivery of trees to the lodge was in December.
Nectandra Institute (NI) held its first virtual New Culture Water Month. The annual multi-communities event included educational and popular ludic activities. It was celebrated on the different social networks, as well as virtual meeting forums and round tables hosted by NI.
During the festivities, participants were asked "What motivated you to work and contribute to your water management associations?" "Commaraderie", "pride", "good experience" "responsibility", "commitment", "solidarity" were some of the expressed feelings. Video of event
Three neighboring federations — FEDAPRO, UNAGUAS, and the Liga CUENCA — consisting of about 40 water management associations, joined effort to propose modifications to three Congressional bills that will affect the management of the water associations. The federations met three times with the legislators, made their reports and negotiated changes in the bill that will be considered by the Legislative Assem
Year 2020 was a providential year for plantlet production, as we put extra work with social distancing in the outdoors. The league (Liga CUENCA) of 12 water management associations that have obtained ecoloans from Nectandra Institute (NI) started a nursery as part of the "eco-interest payment", with the objectives of supplying and sharing native trees for reforestation of the members' properties.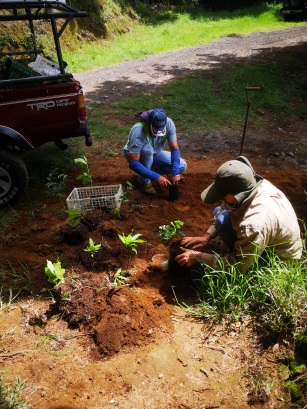 In addition to the 650 trees grown from seeds of 20 native species this year, voluntary wild seedlings along roads (which were at risk of being cut as part of the road maintenance) were bagged into growth bags to add to the nursery inventory. About 1000 seedlings of 25 native species were produced this way. They were distributed to 4 ecoloan properties this year.
A few of the properties were difficult to reforest due to a combination of steep slopes and fierce wind. After several failed attempts with direct transplantation, banana plants as nurse plants turned out to be the solution, as they were able to adapt to challenging terrains and conditions. They, in turn, protected newly transplanted native seedlings from sun and wind. Their fruits also attracted birds to act both as seeds importers and dispersers.